Hey, I'm trying to learn about PID tuning to make my quad fly better with the gopro attached.
Today it have quite a few oscilations, but one thing that caught my attention was the noise when comparing my gyro graph to Joshua's. Mine seems much noisier.
The FC is soft-mounted. All plates and screws seems to be OK. The top plate has a little crack near the camera. but nothing absurd.
Is this a real problem? How can I reduce it?
The frame is a XL5 V4 - it's a modded Nazgul5 v1 with the v2.1 FC
The props were brand new (it literally was the first flight of these props)
The motors are used - about 50 packs, can't see no give in the shaft.
- I'm using a 3d printed feet under the arms, secured by the motor screws from underneath
I'm running BTFL 4.2.3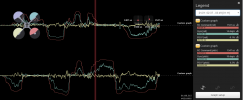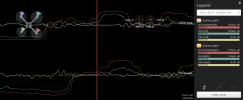 Another thing, I'm missing some D here?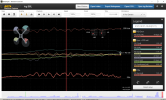 Thanks