Printer : Original Creality Ender 3 upgraded with a 32-bit mobo and a metal single gear extruder. The rest are all stock.
Material : 1.75mm pla filament.
Colour : Silk Blue and White
Chessboard measurements : 13.7 x 13.7 inch. Made up of 80 pieces connecting in interlocking pattern. Glue required.
Pieces height : from 2.5in (pawn) to 4.2in (king).
Support : No.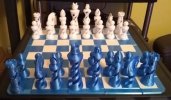 Last edited: