This is the "Eggsplorer" that was on sale for like $12 a while ago. I figured it would be a ridiculous Easter thing, but I was pleasantly surprised when it came.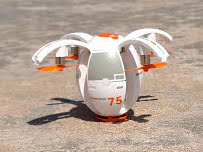 It seems to be the same plastic as another egg drone with some cute pad printing and no fpv camera. It has altitude hold and 6 axis gyro. I got it figuring "Altitude hold on a $12 quad?"
It is pretty easy to fly as long as the wind is dead calm. If there's enough wind to hear in my ears, it can barely move into it in "fast" mode. I tried catching it on camera while fumbling the remote... It was a bad scene.