My XK X300 drone has run out of batteries.
I've had 4 but they no long hold the charge.
eBay has one seller in Australia, but they won't ship to Canada.
Only place I can find is Aliexpress. However it's charging C$59 plus shipping each. Can't afford that.
I am hoping someone is willing to sell some working XK X300 batteries. I am willing to buy if the price is reasonable.
It's a shame having a perfectly working drone but no working battery.
7.4V 2000mah lipo battery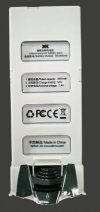 Last edited: