I think somebody may heard of our Notuzi h100/B90 hydrogen drone before in the news,we stopped production of this product last year, and now only supply hexacopter solution hydrogen-fueled drones.But I'm happy to share our Lithium battery b90 drone solution.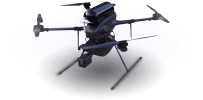 Notuzi H100 hydrogen drone
Notuzi B90 lipo battery version drone (45 minutes flight time,3kg payload).
Features:
Model: Notuzi B90
Max. Paylaod: 3kg
Max. Flight time: 45 minutes(22A,6s battery)
Wind resistence: level 5,10m/s
Weight: 3.7kg
Wheelbase: 920mm
IP Level: IP54
Positioning system:
GPS, RTK(Optional)
Advantages compare to DJI M200:
B90 drone can carry payload weight up to 3kg
Can use our 20+ payloads for Multipurpose(DJI have about 10 payploads ).
Noise is just half of DJI M200 solution.
Endurance is 8 minutes longer.
A better Mobile Ground Station:1200nit,1.2kg,IP52,Five Points-touching Control

Welcome to leave your comments.